Turbo SSB 40 Rotating Nozzle
Plain bearing nozzle with slow rotation
360° low pressure plain bearing nozzle
slow rotation and small amounts of liquid
FDA compliant & EX certified
acid, alkali and temperature resistant
compact dimensions
self-cleaning, hygienic, low-wear
high operational reliability
| Technical Data | Value |
| --- | --- |
| Max. cleaning diameter: | 3 meters |
| Spray pattern: | 360° |
| Pressure range: | 2 – 5 bar |
| Flow rate: | 35 – 62 LPM (2,1 – 3,7 m³/h) |
| Insertion opening: | BSP/NPT min. Ø 38 mm, Splint min. Ø 57 m |
| Mounting position: | arbitrary, preferrably vertical downwards |
| Weight: | approx. 0,12 KG |
| Materials: | Stainless Steel 316L (1.4404), C.PTFE, PTFE |
| Pipe connection: | 3/8″ Internal Thread BSP (NPT) |
| Optional Pipe Connections: | S1/2″ Splint, DN10 Splint, DN15 Splint, DN20 Splint |
| Nozzle characteristics: | Ball with slots |
| Certificates: | 3.1, 2.2, ATEX, FDA Regulation (EC) No 1935/2004 |
| Max. operating temperature: | 95°C (203°F) |
| Max. ambient temperature: | 140°C (284°F), 30 Min. |
| Operating recommendation: | It is recommended to install a filter/strainer (500 μm) in the CIP supply line to the tank cleaner to protect it from particle clogging or damage. |
The Turbo SSB 40 is a slowly rotating rotary nozzle. During operation, liquid flowing through it sets the spherical head into a steady braked rotation. In the process, flat jets of liquid with a long range emerge through slots. The slow rotation of the nozzle favours an effective bundled liquid impact with a high impact effect. This achieves a cleaning effect of up to 3 metres in diameter. The Turbo SSB is equipped with an extremely low-wear slide bearing system that is permanently flushed with liquid, thus achieving extremely long service lives. Even brief exposure to steam or compressed air does not cause any damage. Mostly, even after years of permanent use in a wide variety of industrial applications, no operational failures caused by wear have been detected.
The nozzle can be easily cleaned of solids by means of a removable ball head. The Turbo SSB meets the highest hygiene standards as well as FDA requirements and is suitable for use in potentially explosive atmospheres. Turbo SSB are available in 3 sizes and many connection types. Common applications for Turbo SSB 40 rotary nozzles are found in the dairy, food, beverage, pharmaceutical and chemical industries for cleaning production, process or transport containers. We recommend installing a 500 micron filter/screen in the CIP supply line close to the nozzle to protect it from clogging or damage by particles.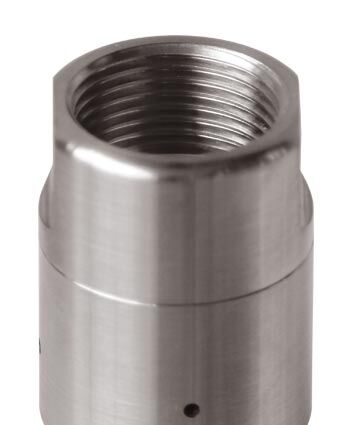 Threaded Connection
Turbo SSB 40 standard devices are equipped with a 3/8″ cylindrical internal thread BSP (British Standard PIPE according to DIN ISO 228). The device is optionally available with a 3/8″ conical internal thread NPT (National Pipe Taper, American pipe thread for self-sealing connections).
Turbo SSB 40 Threaded and Splint pin connection
Connection
Spraypattern
Pipe*
Product code
Materials
Certificates
Article number
*corresponds to the maximum pipe OD of the pipe on which the nozzle is to be installed (inches or mm). Split pin versions have approx. 15% higher flow-rates. Recommended standard devices with high storage probability are colored in blue.
3/8″ IG-BSP
360°
3/8″
TSSB40AF-360-BSP
316L/C.PTFE
ATEX+FDA, 3.1

4660-2556-113

3/8″ IG-BSP
360°
3/8″
TSSB40F-360-BSP
316L/PTFE
FDA, 3.1
4660-2555-112
3/8″ IG-NPT
360°
3/8″
TSSB40AF-360-NPT
316L/C.PTFE
ATEX+FDA, 3.1
4660-2558-213
3/8″ IG-NPT
360°
3/8″
TSSB40F-360-NPT
316L/PTFE
FDA, 3.1
4660-2558-212
1/2″ Split pin
360°
12,70
TSSB40AF-360-PF
316L/C.PTFE
ATEX+FDA, 3.1

4660-2557-413

1/2″ Split pin
360°
12,70
TSSB40F-360-PF
316L/PTFE
FDA, 3.1
4660-2557-412
DN10 Split pin
360°
13,00
TSSB40AF-360-DN10
316L/C.PTFE
ATEX+FDA, 3.1
4660-2557-415
DN10 Split pin
360°
13,00
TSSB40F-360-DN10
316L/PTFE
FDA, 3.1
–
DN15 Split pin
360°
19,00
TSSB40AF-360-DN15
316L/C.PTFE
ATEX+FDA, 3.1
4660-2557-419
DN15 Split pin
360°
19,00
TSSB40F-360-DN15
316L/PTFE
FDA, 3.1
4660-2561-419
DN20 Split pin
360°
23,00
TSSB40AF-360-DN20
316L/C.PTFE
ATEX+FDA, 3.1
–
DN20 Split pin
360°
23,00
TSSB40F-360-DN20
316L/PTFE
FDA, 3.1
–
The data, technical data and information presented do not release the user from the obligation to check the suitability of the products supplied for the intended application. All information is without guarantee. (Status of: 27.10.2022-71427321893-1888948-71042)