Troll Ball 3″ Rotating Nozzle
Plain bearing, rotating nozzle with slow rotation and a strong cleaning effect
low pressure plain bearing 360° rotating nozzle
slow radiation with low consumption values
FDA compliant & EX certified
acid, alkali and temperature resistant
compact dimensions
self-cleaning, hygienic, low-wear
high operational reliability
| Technical Data | Value |
| --- | --- |
| Max. cleaning diameter: | 7 meters |
| Spray pattern: | 360° and 180° up-, downwards |
| Pressure range: | 3 – 12 bar |
| Flow rate: | 110 – 270 LPM (6,6 – 16,2 m³/h) |
| Insertion opening: | min. Ø 80 mm |
| Mounting position: | arbitrary, preferrably vertical downwards |
| Weight: | approx. 2,3 KG |
| Materials: | Stainless Steel 316L (1.4404), 316 (1.4401), C.PTFE, PTFE, (PEEK) |
| Pipe connection: | 1,5″ Internal Thread BSP, BSPT (NPT) |
| Nozzle characteristics: | Ball with slots |
| Certificates: | 3.1, 2.2, FDA Regulation (EC) No 1935/2004 |
| Max. operating temperature: | 95°C (203°F) |
| Max. ambient temperature: | 140°C (284°F), 30 Min. |
| Operating recommendation: | It is recommended to install a filter/strainer (500 μm) in the CIP supply line to the tank cleaner to protect it from particle clogging or damage. |

Reinigungsfokus 360°, Hauptwirkungsbereich horizontal und aufwärts, entwickelt für Standard-Reinigungsanwendungen,
Alternative: FanJet Typ B
Reinigungsfokus 360°, Hauptwirkungsbereich horizontal und aufwärts, entwickelt für Installation kopfüber mit Wirkungsbereich nach oben, Alternative: FanJet Typ F
Reinigungsfokus 180°, Hauptwirkungsbereich horizontal und nach unten, entwickelt für eine Installation in offenen Behältertypen, Alternative: FanJet Typ E
Reinigungsfokus 180°, Hauptwirkungsbereich horizontal und nach oben, entwickelt für die Deckenreinigung
The Troll Ball is a rotating cleaning nozzle whose ball head is equipped with drillholes instead of slots. The ball-bearing-free and wear-resistant drive system generates a slow rotation in which strong, bundled liquid jets with high impact force are formed. The individual jets cover each other, which means that a complete 360° cleaning action is achieved. Troll Balls are also available in 180° variants and with attached flat jet or bundle nozzles to improve coverage or increase the jet strength. Troll Ball rotating nozzles are robust and almost indestructible and can be easily serviced or repaired in the event of a defect. Every component of a Troll Ball is available as a spare part.
The simple and effective drive system of the TROLL BALL 3″ creates a slow and constant rotation.
This process provides continuous cleaning with different cleaning media and a wide temperature range. The TROLL BALL has few moving parts, providing a compact, reliable, and low-maintenance cleaning solution. The TROLL BALL is ideal as a replacement for fixed or rotating spray balls.
The cleaning fluid drives a simple motor that produces constant rotation of the ball head. The entire cleaning liquid flows with effective force through the few holes in the spray ball. The specially developed design of the bores creates a good jet strength with a minimum of liquid. An additional nozzle cleans the body and the inlet nozzles of the container. The high-energy drops provide very effective impact up to 3,5 m (r). This ensures reliable cleaning of containers up to 7 m in diameter with just a single nozzle.
The TROLL BALL meets the hygiene and material requirements of the FDA. It can be used in the pharmaceutical, food, biotech, beverage and many other hygiene-conscious industries. The TROLL BALL is available in 180° and 360° upwards and downwards versions and also as a Troll Ball 2″ version.
Threaded Connection
Troll Ball 3 standard devices are equipped with a 3/4″ cylindrical internal thread BSP (British Standard PIPE according to DIN ISO 228). The device is optionally available with a 3/4″ conical internal thread NPT (National Pipe Taper, American pipe thread for self-sealing connections).
Troll Ball 3″ BSP Threaded Connection
Connection
Spraypattern
Spraypattern
Product-Code
Materials
Certificates
Article Number
Recommended standard devices with high storage probability are shown in blue.
1,5″ IG-BSP
360° standard
Type C
TB3AF-C360-BSP
316L/C.PTFE
FDA, 3.1
–
1,5″ IG-BSP
360° standard
Type C
TB3F-C360-BSP
316L/PTFE
FDA, 3.1
–
1,5″ IG-BSP
180° downwards
Type G
TB3AF-G180-BSP
316L/C.PTFE
FDA, 3.1
–
1,5″ IG-BSP
180° downwards
Type G
TB3F-G180-BSP
316L/PTFE
FDA, 3.1
4660-2227-112
1,5″ IG-BSP
180° upwards
Type H
TB3AF-H180-BSP
316L/C.PTFE
FDA, 3.1
–
1,5″ IG-BSP
180° upwards
Type H
TB3F-H180-BSP
316L/PTFE
FDA, 3.1
–
1,5″ IG-BSP
360° inverted
Type D
TB3AF-D360-BSP
316L/C.PTFE
FDA, 3.1
–
1,5″ IG-BSP
360° inverted
Type D
TB3F-D360-BSP
316L/PTFE
FDA, 3.1
–
Troll Ball 3″ NPT Threaded Connection
Connection
Spraypattern
Spraypattern
Product-Code
Materials
Certificates
Article Number
Recommended standard devices with high storage probability are shown in blue.
1,5″ IG-NPT
360° standard
Typ C
TB3AF-C360-NPT
316L/C.PTFE
FDA, 3.1
4660-2223-213
1,5″ IG-NPT
360° standard
Typ C
TB3F-C360-NPT
316L/PTFE
FDA, 3.1
4660-2223-212
1,5″ IG-NPT
180° downwards
Typ G
TB3AF-G180-NPT
316L/C.PTFE
FDA, 3.1
–
1,5″ IG-NPT
180° downwards
Typ G
TB3F-G180-NPT
316L/PTFE
FDA, 3.1
–
1,5″ IG-NPT
180° upwards
Typ H
TB3AF-H180-NPT
316L/C.PTFE
FDA, 3.1
–
1,5″ IG-NPT
180° upwards
Typ H
TB3F-H180-NPT
316L/PTFE
FDA, 3.1
–
1,5″ IG-NPT
360° inverted
Typ D
TB3AF-D360-NPT
316L/C.PTFE
FDA, 3.1
–
1,5″ IG-NPT
360° inverted
Typ D
TB3F-D360-NPT
316L/PTFE
FDA, 3.1
–
Troll Ball 3″ BSPT Gewindeanschluss
Connection
Spraypattern
Spraypattern
Product-Code
Materials
Certificates
Article Number
Recommended standard devices with high storage probability are shown in blue.
1,5″ IG-BSPT
360° standard
Typ C
TB3AF-C360-BSPT
316L/C.PTFE
FDA, 3.1

4660-2222-113

1,5″ IG-BSPT
360° standard
Typ C
TB3F-C360-BSPT
316L/PTFE
FDA, 3.1

4660-2102-999

1,5″ IG-BSPT
180° downwards
Typ G
TB3AF-G180-BSPT
316L/C.PTFE
FDA, 3.1
–
1,5″ IG-BSPT
180° downwards
Typ G
TB3F-G180-BSPT
316L/PTFE
FDA, 3.1
–
1,5″ IG-BSPT
180° upwards
Typ H
TB3AF-H180-BSPT
316L/C.PTFE
FDA, 3.1
–
1,5″ IG-BSPT
180° upwards
Typ H
TB3F-H180-BSPT
316L/PTFE
FDA, 3.1
–
1,5″ IG-BSPT
360° inverted
Typ D
TB3AF-D360-BSPT
316L/C.PTFE
FDA, 3.1
–
1,5″ IG-BSPT
360° inverted
Typ D
TB3F-D360-BSPT
316L/PTFE
FDA, 3.1
–
Maintenance packages PTFE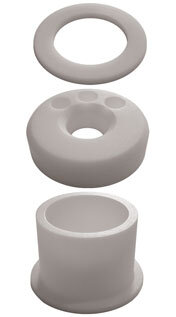 Consisting of:
#70177 Controler: 4660-6240-020
#70115 Socket: 4660-6230-020
#70368 Seal: 4660-6280-020
Troll Ball 3″ (ATEX)
–
The data, technical data and information presented do not release the user from the obligation to check the suitability of the products supplied for the intended application. All information is without guarantee. (Status of: 11.11.2022-71427321893-1888948-71042)