OC 200 first modular orbital cleaner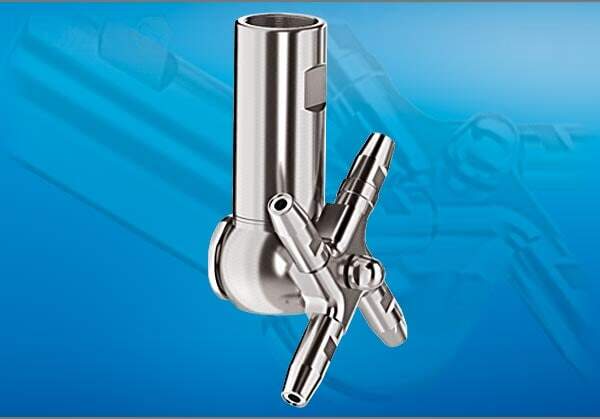 OC 200: the most effective orbital cleaner on the market
powerful modular cleaner
low maintenance
high, effective throw distance
validatable cleaning
ISO 9001 standard
Maximum flexibility
Maximum ranges
Technical Data OC 200 orbital cleaner
| Technical Data | Value |
| --- | --- |
| Max. cleaning diameter: | 36 meters / 118 feet |
| Spray pattern: | 360° |
| Pressure range: | 4 -10 bar / 58-145 psi |
| Flow rate: | 317 – 1083 LPM / 84-286 US gpm (19 – 65 m³/h) |
| Insertion opening: | Ø 200mm – 370 mm / Ø 7.88 – 14.57 Inch |
| Preferred mounting position: | arbitrary, preferrably vertical |
| Materials: | Stainless Steel 316L (1.4404), C.PTFE, PTFE, PEEK, A350, EPDM, FKM |
| Pipe connection: | 2″ female thread BSP |
| Surface: | Ra ≤ 0,8 μm |
| Nozzle characteristics: | 2,3 or 4 short, long or extended nozzles |
| Certificates: | 3.1, 2.2, FDA, Regulation (EC) No 1935/2004, 2023/2006, ADI, USP class VI |
| Max. operating temperature: | 95°C (203°F) |
| Max. ambient temperature: | 140°C (284°F), 30 Min. |
| Operating recommendation: | It is recommended to install a filter/strainer (500 μm) in the CIP supply line to the tank cleaner to protect it from particle clogging or damage. |
Operating values
The pressure range for operating the OC 200 is 4 – 10 bar at the cleaning machine.
With a flow rate of 317 – 1083 liters/minute, a cleaning diameter of up to 36 meters can be achieved.
The OC200 is currently the orbital cleaner with the highest flexibility and range on the market.
nozzle lenght

short
long
long with extension

* Certificates: Availability depends on the certificate group
Dimensions
A
2″ BSP x 22 mm or 2″ NPT*
B [mm]
296
316
376
C [mm]
144
D [mm]
97
E [mm]
240
280
400
F [mm]
2 & 4 Nozzles
200
280
400
3 Nozzles
200
250
370
G [mm]
200
240
360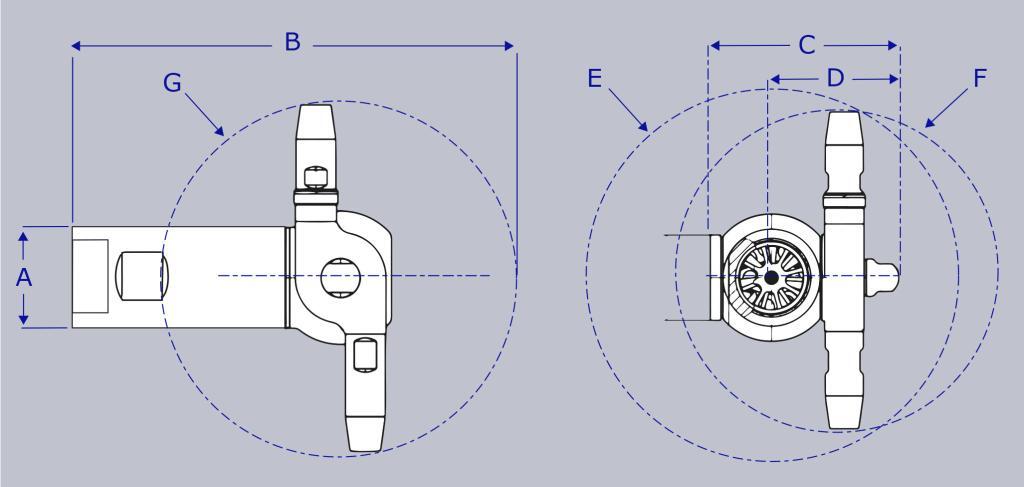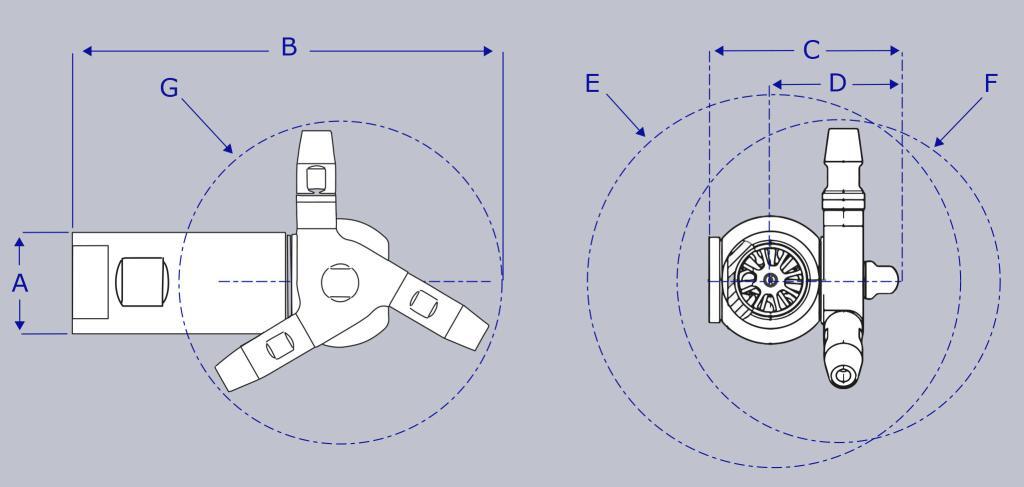 The OC 200 is a powerful, modular jet cleaner with a 360° orbital spray pattern. The OC 200 was specially developed for cleaning large tanks and containers with large amounts of liquid. The OC 200 is driven by the cleaning medium at a pressure of 4 to 10 bar. A radial and axial rotation of the nozzle head is generated by turbine drives. Two, three or four nozzles of different lengths create bundled liquid jets with a strong impact effect and a range of up to 36 meters in diameter. The circulating jets of liquid create a full-coverage, long-range spray pattern that completes itself within 8 to 21 minutes.
Thanks to optimal flow control, a smooth-running mechanism without ball bearings and a hygienic sealing concept, the energy used in the device unfolds in a strong cleaning effect. The orbital cleaning behavior enables the best possible use of the cleaning liquid or chemical additives. For use in hygiene-sensitive areas, the device keeps itself permanently clean with a self-cleaning nozzle and empties itself automatically after use in vertical operation. The use of the device is always resource-saving and takes place with the lowest wear and tear and maintenance costs.
The OC 200 meets the highest hygiene and safety standards and can be used for FDA applications. During a long service life, this device will always prove to be a reliable partner for your cleaning tasks. The cleaning process of an OC 200 can optionally be permanently monitored by the SMW 100 sensor device. The OC 200 is the first modular cleaner that allows the user to easily and quickly adapt to a cleaning task. The cleaner can be converted quickly and easily by replacing the nozzle disc and various drive components. Particularly when using the OC 200 rotary cleaner for various cleaning tasks on the move, optimal and resource-saving cleaning can be achieved using modular adjustment options.
Common applications for this product are tanks and vessels in the brewing, beverage, dairy, food, pharmaceutical, chemical, shipping and transportation industries.
OC200 order codes
Example
Position
Description of the order code
Code selection features
* Certificates: availability depending on certification group
** Certification group: Depending on the cleaner configuration
OC200
1
Cleaner Name
OC200
0
2
Spraypattern
0 = 360°
4
3
Number of Nozzles
2
3
4
12
4
Nozzle Diameter

Ø 9 mm = 9
Ø 10 mm = 10
Ø 11 mm = 11
Ø 12 mm = 12
Ø 13 mm = 13
Ø 14 mm = 14
Ø 15 mm = 15
L
5
Nozzle lenght

S = kurze Düsen
L = long Nozzles
XL = Long Nozzles with extensions
J
6
Selfcleaning

J = Yes
N = No
C
7
Full pattern time

OPT = Optimal
C = Individually to be defined in consultation with Support.
30
8
Impeller
z.B. 30
Impeller predefined by selecting the optimal unwind time. Can be customized individually after consultation with Support.
1
9
Matrix
1 = Matrix 1
BSP
10
Pipe Connection
BSP = BSP thread
NPT = NPT thread
2
11
Connection Size
2 = 2″
11
12
Materials
11 = A350 / C-PTFE / PEEK
10
13
Materials Elastomere
10 = FKM
11 = EPDM
1
14
Material Cleaner Body
1 = 316L / 1.4404
2
15
Surface Quality
2 Ra ≤ 0,8 μm
W
17
Certificates**
0 = wthout certifictae (Number Zero)
E = Regulation (EG) Nr. 1935/2004, Nr. 2023 / 2006, Nr. 10 / 2011 Declaration of Compliance*
W = Factory Certificate EN10204-2.2
U = Declaration of Compliance USP class VI*
Z = Inspection Certificate EN10204-3.1
O = Surface Inspection & -protocoll (Letter O)
K = FDA Declaration of Compliance*
A = Declaration of Compliance ADI free*
Example table
| Example | OC 200 – | 0 – | 4 | x | 12 | L – | J – | C – | 30 – | 1 – | BSP | 2 – | 11 – | 10 – | 1 – | 2 // | _ | // W |
| --- | --- | --- | --- | --- | --- | --- | --- | --- | --- | --- | --- | --- | --- | --- | --- | --- | --- | --- |
| Position | 1 – | 2 – | 3 | x | 4 | 5 – | 6 – | 7 – | 8 – | 9 – | 10 | 11 – | 12 – | 13 – | 14 – | 15 // | 16** | // 17 |
The data, technical data and information presented do not release the user from the obligation to check the suitability of the products supplied for the intended application. All data are without guarantee. (Status of: 11.10.2022-71427321893-1888948-71042)